Treat yourself to a refreshing beverage at Hunter & Barrel. Pop into our welcoming Dubai bar and sample a premium selection of champagne, craft beer, wines and non-alcoholic beverages. There's a tipple to delight every palate on our specially curated beverages menu.
A Dubai bar with a difference
Inspired by age-old beverage craftsmanship, our bar menu features barrel-aged cocktails interwoven with progressive techniques to create an experience quite unlike any other. 
Come in and try our selection of cocktails matured in oak barrels imparting incredible flavour dimensions. From classic and strong libations like the quintessential Negroni to sweet and fruity refreshments like the Hunting Sour, our innovative cocktail list is designed to suit a wide range of tastes. 
On our list of drinks, you'll also find a diverse selection of craft beers, wines and spirits – so you can order an old favourite or ask our bartenders for a recommendation to suit your meal. 
And for those driving home, our mocktail list encapsulates our creative drinks-making philosophy, minus the alcohol. Sip on a refreshing Ginger Rose, a fruity apple and ginger, or enjoy a fresh lemonade or juice at the bar.
Sample the best with a flight
Try one of our interactive tasting flights and receive a 15ml taster of each plus tasting notes to help guide you through the experience.
Aged up to 6 weeks, hints of oaked flavours and accentuating floral gin notes

A secret blend of rum spends time in barrel to integrate all the unique flavours into a smooth blend

Macerated with pineapple, strained and matured in barrel for up to 6 weeks

A secret blend of whisky spends time in barrel to integrate all the unique flavours into a smooth blend
H&B Whisk(e)y, Dalmore 12YO, Bulleit Bourbon

Makers Mark 46 / Woodfors Reserve / Buffalo Trace

Compass Box The Peat Monster, Laphroaig Select, Smokey Monkey

H&B Tequila / Patron Silver / El Recuerdo De Oaxaca Mezcal
House barrel aged Gin, citrus cordial, bitters, saline

Barrel aged Gin, coffee infused Campari, Cinzanno Rosso

Barrel aged Whisk(e)y, bitters & Stag Tincture (PX Sherry, Amaro, Simple Syrup)

Butterwashed Ketel One Vodka, espresso, barrel aged coffee liquor

Barrel aged rum, pineapple & coconut shrub with pear & tiki bitters, ginger beer

Barrel aged tequila, citrus cordial with Agave syrup

Beef washed Bulleit Bourbon, lemon juice, maple syrup, bitters * contains Egg White

Horseradish infused Ketel One Vodka, house bloody mary mix, tomato juice

Barrel aged Whisk(e)y with apple & ginger cordial, bitters, soda

Oak bottle aged Aperol, Prosecco, soda
Basil & elerflower cordial, lemon juice, saline, soda

Earl Grey syrup, pineapple & coconut shrub, soda

Apple & ginger cordial, rosemary drops with ginger beer

Citrus cordial, pineapple juice, saline & soda

House bloody mary mix & tomato juice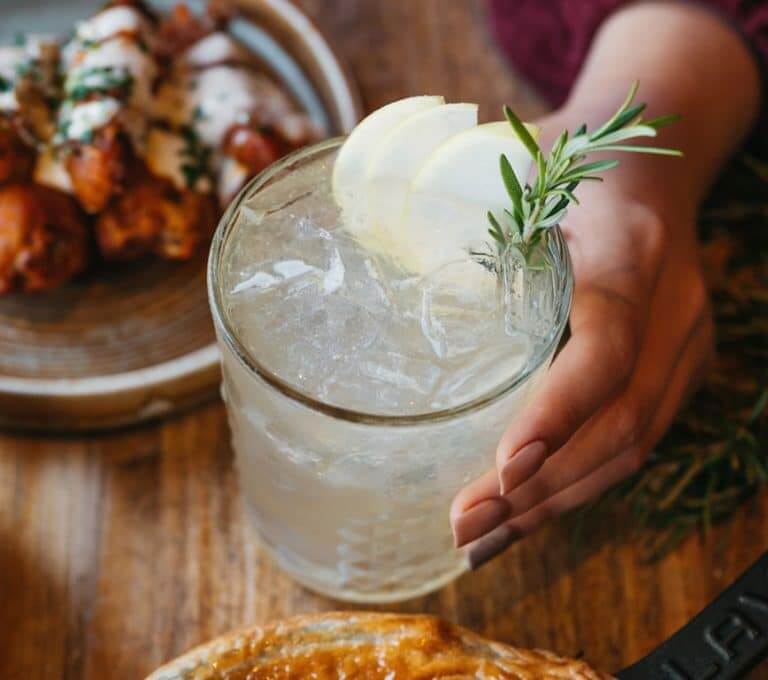 These are a few classics we can make for you, but feel free to make any request and we will do our best to accommodate.
Amaretto, lemon juice, sugar

Gin, lemon juice, blackberries

Vodka, Cointreau, cranberry & lime

Vodka, Chambord, pineapple juice
Vodka, white rum, dark rum, tequila, Cointreau, lemon, Coca Cola

Midori, lemon juice, sugar *contains egg white

White rum, dark rum, pineapple juice, Orgeat

Pisco, lime juice, sugar *contains egg white

Whisky, lemon juice, honey, ginger

Absinthe rinsed glass, whisk(e)y, bitters, sugar
Choice of half pint or pint.
Peroni Nastro Azzuro

50/27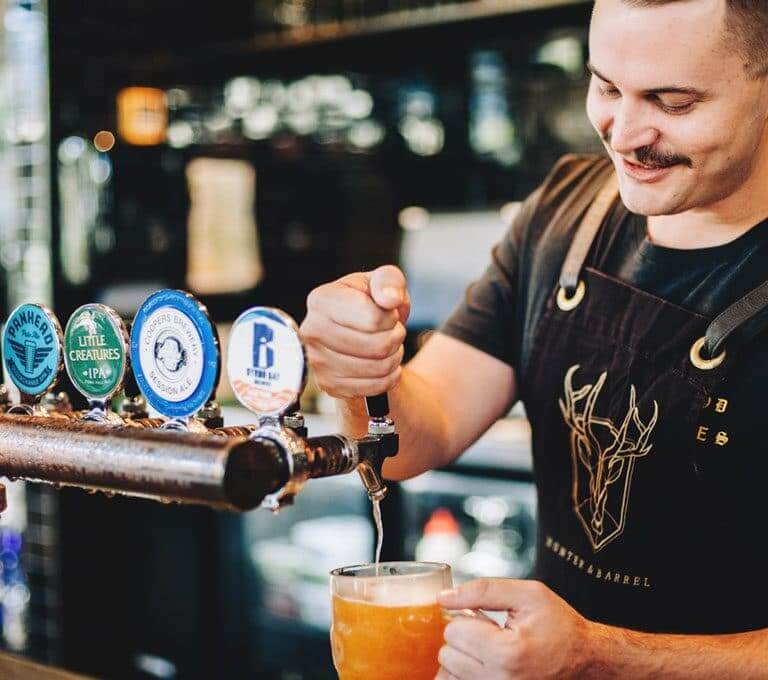 Estrella 'Daura Damm - Gluten Free Lager

48

Brew Dog Agent Tangerine

48

Kopparburg Mixed Fruit

58

Heineken Zero Alcohol 0.0%

26
| The Wine | Region | Btl |
| --- | --- | --- |
| Conte Fosco Cuvee Brut | Emilia-Romagna, Italy | 225 |
| St Michelle Rose | Washington State, USA | 300 |
| Veuve Clicquot, Yellow Label | Reims, France | 550 |
| Taittinger Prestige Rosé Brut NV | Epernay, France | 650 |
| Veuve Clicquot, Rose | Reims, France | 675 |
| Dom Pérignon Blanc | Reims, France | 2,200 |
| The Wine | Region | Btl |
| --- | --- | --- |
| Da Luca, Pinot Grigio | Sicily, Italy | 160 |
| False Bay Slow, Chenin Blanc | Stellenbosch, South Africa | 190 |
| Banrock Station, Moscato | South Eastern Australia | 220 |
| Yalumba, Y Series, Chardonnay | South Austraiila, Australia | 275 |
| Babydoll, Yealands, Sauvignon Blanc | Marlborough, New Zealand | 290 |
| Wither Hills, Sauvignon Blanc | Marlborough, New Zealand | 315 |
| Yalumba, Y Series, Pinot Grigio | South Austraiila, Australia | 360 |
| La Scolca Valentino, Gavi DOCG Cortese | Piedmont, Italy | 390 |
| Yalumba, Y Series, Riesling | South Austraiila, Australia | 415 |
| William Fevre, Chablis | Chablis, France | 450 |
| Saintsbury, Chardonnay Unfiltered | Napa Valley, California, USA | 470 |
| 19 Crimes Hard, Chardonnay, | South Eastern Australia | 495 |
| Cloudy Bay, Sauvignon Blanc | Marlborough, New Zealand | 545 |
| Domaine Doudeau-Léger, Sancerre | Sancerre, France | 625 |
| The Wine | Region | Btl |
| --- | --- | --- |
| Marius Rose | Provence, France | 195 |
| Grenache Rosé Le Fou | Pays DOC, Southern France | 240 |
| Château Minuty, M de Minuty, Provence | Provence, France | 340 |
| Turkey Flat Rosé | Barossa Valley, Australia | 360 |
| Château d'Esclans Whispering Angel Rosé | Provence, France | 480 |
|   |   |   |
| The Wine | Region | Btl |
| --- | --- | --- |
| Da Luca, Nero d'Avola | Sicily, Italy | 165 |
| Anakena Birdman, Cabernet Sauvignon | Central Valley, Chile | 170 |
| Marius, Grenache Syrah | Languedoc, France | 190 |
| Boschendal Classics Lanoy Cabernet – Merlot | Stellenbosch, South Africa | 245 |
| Famillia Zuccardi Serie A, Malbec | Mendoza, Argentina | 250 |
| Domaine de l'Ostal Cazes "Estibals", Minervois AOP | Rhone, France | 340 |
| Pascal Jolivet Attitude, Pinot Noir | Loire Valley, France | 370 |
| Gentleman's Collection, Cabernet Sauvignon | South Eastern Australia | 395 |
| Two Hands 'Angels Share', Shiraz | Barossa Valley, Australia | 450 |
| Chateau Ste Michelle, Cabernet Sauvignon | Washington State, USA | 435 |
| 19 Crimes, Shiraz | South Eastern Australia | 460 |
| Château Poitevin, Cru Bourgeois, Médoc | Bordeaux, France | 480 |
| Devils Corner, Pinot Noir | Tasmania, Australia | 550 |
| Kaiken Ultra, Malbec | Mendoza, Argentina | 570 |
| Torbreck Juveniles, Grenache Shiraz Mourvedre | Barossa Valley, South Austraila | 610 |
| Boekenhoutskloof – The Chocolate Block, Syrah | Franschoek Valley, South Africa | 610 |
| Château le Juge, Sauternes, Bordeaux | Sauternes, Bordeaux, France | 395 |
| The Wine | Region | Gls |
| --- | --- | --- |
| Conte Fosco Cuvee Brut | Emilia Romagna, Italy | 44 |
| St Michelle Rose | Washington State, USA | 62 |
| The Wine | Region | GLs |
| --- | --- | --- |
| Da Luca, Pinot Grigio | Sicily, Italy | 42 |
| False Bay Slow, Chenin Blanc | Stellenbosch, South Africa | 44 |
| Banrock Station, Moscato | South Eastern Australia | 48 |
| Yalumba, Y Series, Chardonnay | South Eastern Australia | 58 |
| Babydoll, Yealands, Sauvignon Blanc | Marlborough, New Zealand | 62 |
| Wither Hills, Sauvignon Blanc | Marlborough, New Zealand | 66 |
| The Wine | Region | Gls |
| --- | --- | --- |
| Marius Rose | Provence, France | 44 |
| Grenache Rosé Le Fou | Pays DOC, Southern France | 48 |
| Château Minuty, M de Minuty | Provence, France | 66 |
| Turkey Flat Rosé | Barossa Valley, Australia | 68 |
| The Wine | Region | Gls |
| --- | --- | --- |
| Da Luca, Nero d'Avola | Sicily, Italy | 42 |
| Anakena Birdman, Cabernet Sauvignon | Central Valley, Chile | 44 |
| Marius, Grenache Syrah | Languedoc, France | 48 |
| Boschendal Classics Lanoy Cabernet – Merlot | Stellenbosch, South Africa | 50 |
| Famillia Zuccardi Serie A, Malbec | Mendoza, Argentina | 54 |
| Pascal Jolivet Attitude, Pinot Noir | Loire Valley, France | 68 |
| The Wine | Region | Gls | Btl |
| --- | --- | --- | --- |
| Château le Juge, Sauternes | Sauternes, France | 125 | 395 |
Disaronno Amaretto - 50ml

48

H&B Coffee Liquer - 30ml

35

Sambuca Isolabella - 30ml

42

Hapsburg Absinthe - 30ml

54

Pimms 50 ml - w/ Lemonade

58
Russian Standard Original 30ml

42

Stolichnaya Vodka 30ml

42
Appleton Estate Signature 30ml

44

Diplomatico Matuano 30ml

44

Kraken Spiced Rum 30ml

46
El Jimador Blanco 30ml

40

El Jimador Reposado 30ml

48

El Recuerdo de Oaxaca Mezcal 30ml

52
Grants Family Reserve 30ml

44

Hibiki Japanese Harmony 30ml

74
Johnnie Walker Black Label 30ml

58

Johnnie Walker Dbl Blk 30ml

60

Johnnie Walker Blue Label 30ml

135

Glenfiddich Fire & Cane 30ml

62

Glenfiddich IPA Experiment 30ml

64

Glenfiddich Project XX 30ml

66

Glenfiddich The Original 30ml

120

Glenfiddich 12 Yr. Old 30ml

55

Glenfiddich 15 Yr. Old 30ml

60

Glenfiddich 18 Yr. Old 30ml

70

Glenmorangie Quinta Ruban 30ml

62

Glenmorangie Lasanta 30ml

62

Glenmorangie Nectar D'Or 30ml

66

Dalmore 12 Year Old 30ml

74

The Macallan 12y Triple Cask 30ml

66

The Macallan 15y Triple Cask 30ml

115
Coca-Cola, 7 Up, Fanta, Coca-Cola light

Fentiman's Light Tonic

25

Tonic Water, Indian Hibiscus Tonic, Soda, Intense Ginger Beer, Ginger Ale

Big Tom Spiced Tomato Juice

25

Orange, Apple, Watermelon, Pineapple

San pellegrino Sparkling 330ml / 750ml

14/30

Acqua Panna Still Water 330ml / 750ml

14/30
English Breakfast, Earl Grey, Jasmine Silver Needle White, Chamomile Flowers, Peppermint Leaf, Blackcurrent & Hibiscus Fruit, Lemongrass & Ginger

Double Espresso, Americana, Cappuccino, Caffe Latte, Mocha